Kilometres of heavenly white or golden sand beaches with turquoise waters. This is the perfect snapshot for anyone who loves feeling the sun, the sea breeze and taking revitalising swims in calm, transparent waters. You don't have to go far to make this dream image a reality any day of the year. It's right here, in Fuerteventura, to enjoy intensely and without hurrying, just a few hours away from the main European cities.
Contenido
'Wind and wave' sportspeople from around the world appreciate the excellence of this island for surfing, windsurfing and kitesurfing because of its extraordinary climate, long days, sun every day of the year, perfect wind and wave conditions, full range of services and facilities… Everything a sportsperson of any level could possibly need.
Póster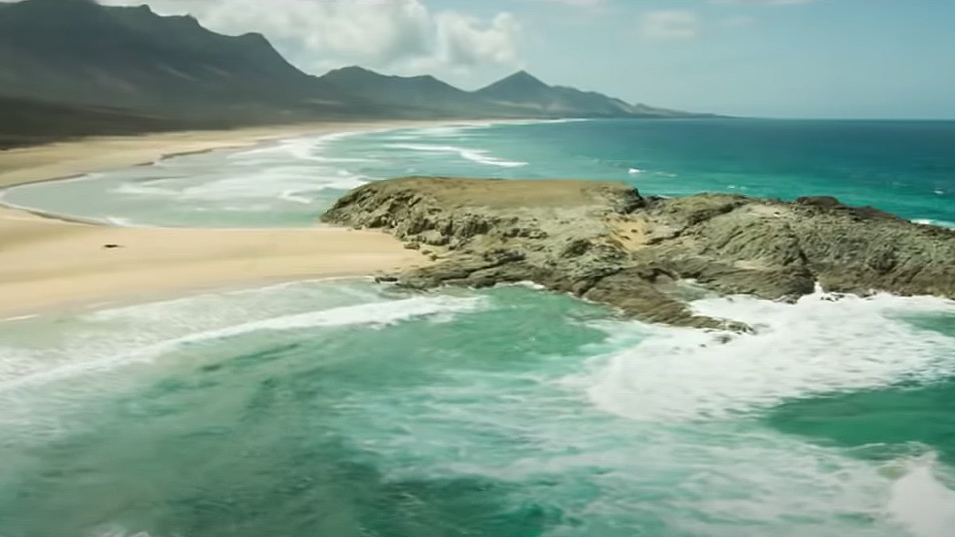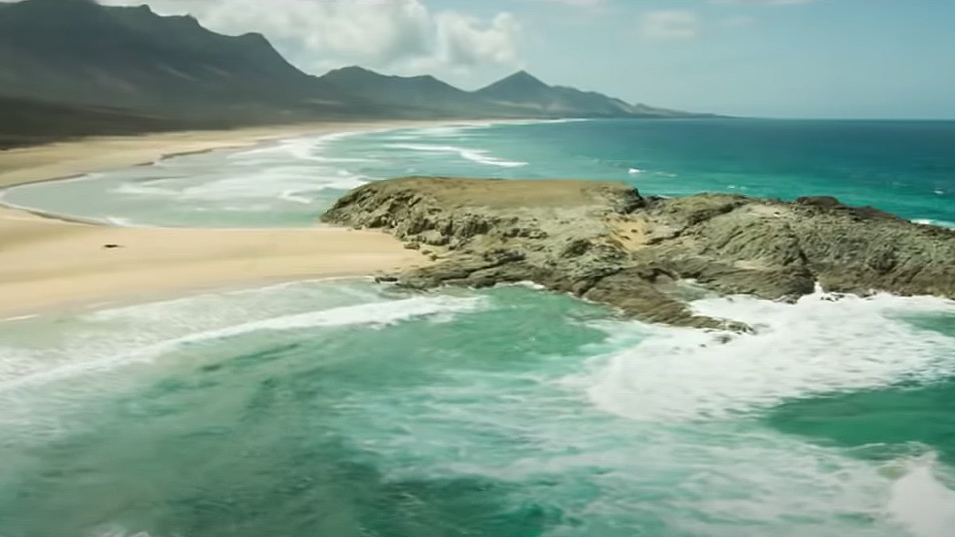 Contenido
And if we get tired of enjoying relaxing days at the beach, which is unlikely, Fuerteventura—one of the Canary Islands biosphere reserves—also has other unforgettable things to do. Explore the austere landscapes inland and be amazed by the beauty of its rolling hills; stop in villages where time moves at a different pace and discover the island's history; visit small, picturesque coastal towns where we can enjoy delicious fresh fish and other delicacies of local cuisine, such as the prestigious cheeses, which have a designation of origin, are internationally renowned and have received countless awards.
Contenido
From beach to beach
Almost 150 kilometres of picture-perfect beaches and only one problem: picking which one to visit! An issue that can easily be solved by going to a new one every day. Today, we'll explore some large beaches surrounded by endless dunes; tomorrow, the little ones can have a safe swim in the crystal-clear lagoons that form between sandbanks and natural reefs; the next day, we might feel a bit more adventurous and we can go as far as the wild solitary beaches, which have been the sets of major film productions, or take a boat trip to a little islet off the coast for some unforgettable moments.
This is the perfect island to come to light on luggage and return home loaded with relaxation and well-being.
Imagen
Contenido
Play with the wind and the waves
Windsurfing and kitesurfing are the kings of water sports on this island. Amateurs and top-class professionals alike can find perfect conditions for riding the waves and taking on the wind any day in Fuerteventura.
For those who have always dreamt of the excitement of getting on a board and heading out to sea, this is the perfect opportunity. The island has specialist companies and schools that provide everything necessary for practising or getting started in these sports, offering a highly professional, quality service with decades of experience. Proof of that is that the Windsurfing and Kiteboarding World Championship has been held on the wonderful beaches of Jandía for years now, with the participation of elite international sportspeople.
Contenido
Taste some Fuerteventura cheese
If there is one delicacy that stands out in Fuerteventura, it's the cheese. 'Majorero cheese' is one of three cheeses from the Canary Islands with a protected designation of origin to distinguish this product of longstanding tradition in the archipelago and on this island in particular.
Acknowledged year after year as some of the best in the world, the extraordinary quality of these cheeses, homemade using traditional techniques, is becoming more and more renowned among prestigious chefs and gourmets. If the experts stand by it, why not treat yourself and your tastebuds as you take in the unique scenery of Fuerteventura. A tantalising suggestion would be to try a few different types, take the opportunity to talk with some master cheesemakers and, since you're here anyway, take a sample of this delicacy back home with you.
Contenido
History and culture on every street
Fuerteventura was the first of the islands to be conquered by the Europeans, so it's easy to imagine the fascinating traces of history it has preserved. One place that everyone must see is Betancuria, which was founded in 1404 and was the island's first capital city. Walking along its streets and discovering heritage declared a 'Historic Site' conjures up times gone by, as we stop to admire every detail of the buildings.
The island also has many interesting museums to help us learn about a culture and identity that go back to the pre-Hispanic period, of which there are still many traces. The original natives, known as 'majos' or 'maxos', left behind an important legacy, such as carvings of footprints on stones on Tindaya Mountain, which is considered an important place of worship.
Contenido
Explore the most ancient landscapes in the Canary Islands
Fuerteventura was the first of the Canary Islands to start emerging from the Atlantic Ocean millions of years ago. Since it hasn't had a volcanic eruption in millennia, erosion has had free reign to mould the island relief to its will, being the real feature of landscapes such as that of Betancuria. And the result couldn't have been more spectacular: vast plains on which low mountains form gentle curves in the terrain, an image which transmits a deep feeling of relaxation. The scarce vegetation intensifies the tranquillity, creating a setting that is unique in Europe.
Imagen
Contenido
Looking up at the night sky
Fuerteventura's beauty goes beyond land and water, with its amazing beaches and sober landscapes. The island is perfect for contemplating the night sky. In fact, the conditions are so fantastic that the entire island is one of the three Starlight Reserves in the Canary Islands, a privilege that is afforded to very few places in the world.
At Sicasumbre, the island's first astronomic viewpoint, enthusiasts and experts have access to informative panels and observation instruments that they can use freely to enjoy the show of stars, constellations, planets and comets that the Fuerteventura night sky has to offer.
Contenido
Don't leave without trying…
'Majorero cheese', which is made with the milk of an endemic goat species and is one of the three Canary Islands cheeses that have a protected designation of origin.